Jan Wendt 2nd on Chess Train Tournament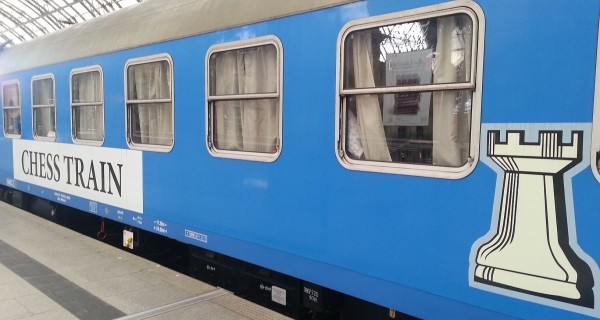 With 10.5 out of 13 (+9 =3 -1) (ahead of Slovak GM Jan Plachetka and another FM Mcintyre from USA. The winner was Czech GM Martin Petr with 100% result - 13 points! This was 2nd successful result of Jan-Dietrich after 10th place on Lichten­rader Herbst 2012 with 6.5 out 9 (only 1⁄2 point less then large 2-9 group).
Czech Chess Train 2012 was unusual chess tournament on the train, with the following itinerary: Prague - Dresden – Wroclaw/Breslau (Poland) – Piestany (Slovakia) – Vienna – Prague. It was 13 rounds Swiss rapid tournament with 20min/player + 10sec/move, all games played on the train. Interes­tingly, tournament will be ELO rated for rapid.
Already 2nd Chess Train is the idea of Czech chess enthu­siast IM Pavel Matocha, organizer and driving force of it, who was also a manager of recent matches of top Czech player GM David Navara with Svidler and Movsesjan.
Each coach (Wagon) was named after one of the former world champions. The long table in the middle of the coach Steiniz was for 1st - top players group, others were playing in compart­ments in coaches called Capablanca, Aljechin, and Botvinnik was wagon-restaurant, while Tal was a luggage wagon :-)
The stations/cities visited were places of impor­tance for chess history. Breslau birth place of Anderssen and Zukertort, who was a student of Anderssen. While spa Piestany is chess renowned by 1912 tournament winning Akiba Rubin­stein.
The blog is here:
http://www.praguechess.cz/index.php?langue_zmena=en&langue=cs
the gallery:
http://www.praguechess.cz/poradane-akce-detail.php?id_akce=27&akce_menu=fotogalerie&znak=0&langue=en
and the results:
http://chess-results.com/tnr82792.aspx?lan=1
On the closing ceremony, back in Prague, famous Czech GM Vlastimil Hort, 4th board on 1970 match USSR vs. Rest of the World, was giving main prizes!
© Dalibor Milen­kovic